Participant Customer Service.
Have questions? We can help. How would you like to connect with us?
We know that your time is valuable. We encourage you to use our web callback feature below if you need assistance from our participant services team. The simple online form lets you request a call-back (asap or at a specific time) to avoid waiting on hold. We look forward to assisting you!
I want to request a call.
Complete the Request a Callback form if you would like a BPAS Participant Services Representative to call you. Available Monday – Friday between 9:00 am – 7:30 pm ET.

I want to call BPAS.
1-866-401-5272. Monday – Friday, 8:00 am – 8:00 pm ET

Participant Portal Updates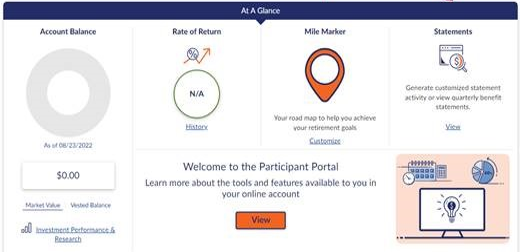 We hope you are enjoying the BPAS participant portal. We're continuing to roll out exciting developments to make it even better over time. Here are a few recent enhancements:
Added a quick link to statements on the home page. Now, it's super easy to find your current and past account statements.
Added the Roadways Mile Marker widget at the top of the home screen for easy access. How's your road to retirement looking? Check in and find out!
The detailed breakdown of investments is back, including the number of shares held and current price for each fund by investment and source. You now have the ability to download this data as well. You can locate this information in MY ACCOUNT. Take a look at the Investment Summary and Detail Views under Balance and Transaction Details.
Multi-factor authentication has been updated for added security. For a seamless experience, ensure that your email and mobile number remain valid. You may update them at any time; simply log in and navigate to MY PROFILE. Learn more with this short video.
While these features are exciting, we're just getting started! There are more enhancements still to come. Here are a few noteworthy things we're working on (not a complete list):
Enhancements for plans still using paper forms for contribution rate changes
Accommodation of international phone numbers
More great content and enhancements to BPAS University and the mobile app
We'll keep you in the loop with updates on a regular basis. So, be sure to check back here often.

Comments? We'd love to hear your thoughts about the new BPAS Participant Portal. Please use the participant feedback survey found in the Library of the portal (after you login to your account) to share your feedback. We're listening.
Note to Plan Sponsors and Financial Partners: BPAS is working on upgrades to your portals as well, making the sites more powerful and user friendly than ever before. Please check this page and email communications for additional updates as we continue to roll out new features and technology over time!